Are You Living with Squirrels? Delmar Offers Safe & Effective Squirrel Removal and Prevention | Serving Delaware, Maryland & Pennsylvania
---
---
SQUIRRELS CAN BE CUTE AND HARMLESS WHEN ROAMING AROUND IN THE WILD, BUT DEALING WITH THEM INSIDE OF YOUR HOME IS A DIFFERENT STORY.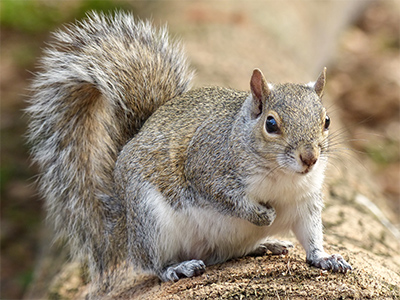 With the tendency to chew through wooden areas in your home, give birth to a large number of children and carry diseases, squirrels can be a problematic pest to have invade your home.
The squirrel removal experts at Delmar Pest Control have advanced trap-and-remove methods that are guaranteed to keep you and your family, as well as the squirrel, safe from harm.
In addition to trapping and removing squirrels from your home, the squirrel exterminators at Delmar will perform a thorough inspection to discover and seal any entry points in your home, preventing future infestations.
Are You Dealing with Squirrels? Here Are Some Telltale Signs of Squirrels in Your Home.
A quick inspection of areas in the home where squirrels commonly nest will help to determine the severity of your squirrel problem. Here are some of the most common signs of squirrels living in your home:
Holes and entry points that appear to have been chewed open
Squirrel feces and urine stains
Damaged wood, soffits, roof boards and exhaust fans
Dirty paw tracks on walls and surfaces
Nesting debris
Chewed wires
Running, scratching or fighting sounds
DON'T ATTEMPT WILDLIFE REMOVAL WITHOUT A PROFESSIONAL!
While squirrels and other wildlife are typically timid when encountered in the wildlife, they can be dangerous in certain situations. When a squirrel, raccoon or bat feels trapped or threatened, especially when cornered indoors, they may attack. Squirrels can carry disease and a single bite can pose serious risks to your health. At the first sign of squirrels in your home, make your first call to the squirrel removal experts at Delmar! We're available 24/7 for emergency wildlife removal throughout Pennsylvania, Delaware, and Maryland.
---
---
We are licensed, insured and long-standing members of the Better Business Bureau and Delaware Pest Control Association. When you need an exterminator you can count on, call Delmar, the pest and wildlife control experts who offer a complete money-back guarantee if you're not 100% satisfied with the results! Call (800) 200-5441 to schedule your free inspection today.

Schedule Your
Free Inspection
"*" indicates required fields