Choose Delmar, the Professional Rodent, Mice & Rat Exterminator That Offers a Pest-Free Guarantee | Serving Delaware, Maryland & Pennsylvania
---
---
MICE, RATS AND OTHER RODENTS CAUSE DAMAGE AND SPREAD DISEASE WHEREVER THEY LIVE, ESPECIALLY IF LEFT UNCHECKED. THE PEST AND WILDLIFE CONTROL EXPERTS AT DELMAR SPECIALIZE IN RUNNING OUR RODENTS AND KEEPING THEM OUT!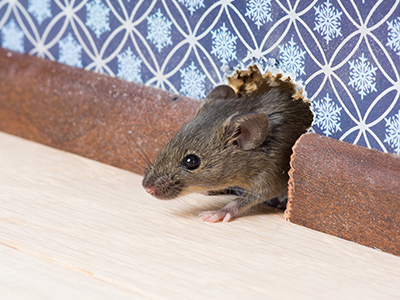 A small rat's nest can quickly blossom into a full-scale infestation in a short amount of time, causing a serious threat to your health and property. An effective rodent, mice and rat exterminator goes beyond treating the existing problem, but will perform a thorough inspection and seal all entry points where rodents are entering the home.
Mice are the most common rodent. They are small, nocturnal animals. Their bodies rarely exceed two inches long and one ounce in weight. They are usually grey in color, but some may appear darker. Mice are capable of jumping approximately 12″ vertical and can climb almost any vertical surface. Mice have poor eyesight, so they use their long whiskers as sensors, as well as their sense of smell and sound.
What Are the Dangers of a Rat or Mouse Infestation?
Beyond carrying disease, mice and rats can cause a number of frustrating problems in your home, such as:
Chewing through electrical wires, causing fires and damaging expensive property
Eating and tearing insulation, drywall and other structural elements of your property
Die in your walls, resulting in bad odors and attracting wildlife
Make disturbing noises in your walls and attic
Contaminate food with droppings
WHERE ARE ALL OF THESE MICE COMING FROM?
Mice will usually nest in the insulation of attics, in stoves and under refrigerators. They will not travel far from their nest. A mouse will usually eat anything a human will eat, as well as cardboard, insulation and sheet rock. Mice are known to spread diseases such as dermatitis, dysentery, meningitis, rabies and spotted fever, as well as many others.
Other rodents like rats and squirrels, because of their size, can cause greater damage to your property and spread the same diseases as mice. Trust the rodent, mice and rat exterminators at Delmar to remove these animals before they cause a larger problem!
---
---
We are licensed, insured and long-standing members of the Better Business Bureau and Delaware Pest Control Association. When you need an exterminator you can count on, call Delmar, the pest and wildlife control experts who offer a complete money-back guarantee if you're not 100% satisfied with the results! Call (800) 200-5441 to schedule your free inspection today.

Schedule Your
Free Inspection
"*" indicates required fields