Bats in the Attic? Don't Panic! Call the Bat Removal Experts at Delmar Pest Control | Serving Delaware, Maryland & Pennsylvania
---
---
DON'T ATTEMPT TO REMOVE A BAT FROM YOUR PROPERTY WITHOUT THE HELP OF A LICENSED PROFESSIONAL BAT REMOVAL SPECIALIST. BATS CARRY DANGEROUS DISEASES AND WILL BITE WHEN THREATENED!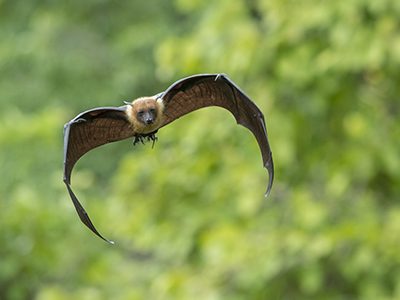 Whether you're dealing with an established bat colony or a single trapped bat, we can help. Bats are known carriers of dangerous viruses and diseases, such as rabies, and pose a serious risk to your health. Our bat removal experts can safely handle bats in even the most difficult areas, like inside walls and crawlspaces, to safely remove and relocate them without hurting the animal or putting your family at risk.
Common Signs You Have a Bat in Your Home:
Bats are nocturnal, and spend most of the day sleeping out of sight. As they tend to only emerge when you're sleeping, it's common for bats to take up residence in homes and go unnoticed for days, weeks or months. Look out for these common signs that you're dealing with bats in your home:
Seeing bats flying around your home just before sunrise or sunset
Scratching or fluttering noises in your walls or attics
High pitched squeaking noises coming from inside the home
An odd smell, similar to scent of ammonia
Small droppings in your attic, crawlspace or near entry points
WILDLIFE IN YOUR PROPERTY CAN POSE SERIOUS RISKS, ESPECIALLY WHEN IT'S TRAPPED & SCARED!
Don't attempt to handle a scared bat or other wild animal on your own! Wildlife can be prone to attack when it feels startled or trapped, and wildlife bites are a common source of serious diseases and illnesses. Our bat exterminators are highly trained, certified and experienced in wildlife removal. The team at Delmar Termite and Pest Control understands how to carefully handle wildlife and can protect your and your family, as well as the bat, from experiencing any harm. Don't hesitate to call for a free quote or immediate service. We're available 24/7 to take your call!
---
---
We are licensed, insured and long-standing members of the Better Business Bureau and Delaware Pest Control Association. When you need an exterminator you can count on, call Delmar, the pest and wildlife control experts who offer a complete money-back guarantee if you're not 100% satisfied with the results! Call (800) 200-5441 to schedule your free inspection today.

Schedule Your
Free Inspection
"*" indicates required fields