Over 25 Years of Experience of Our Perimeter Treatments Contribute to an Integrated Pest Management Program
---
---
PERIMETER TREATMENTS ESTABLISH A BARRIER AROUND THE OUTSIDE OF YOUR HOME.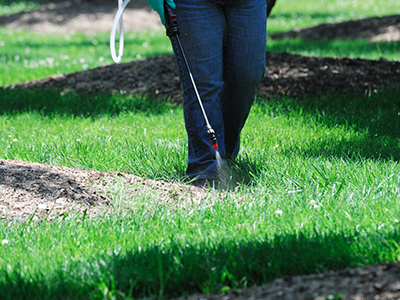 Not only will this help prevent re-infestation by common pests such as crickets and ants, but also prevent the entry of occasional invaders, such as pillbugs and millipedes, as well as harmful insects like spiders, wasps and ticks. A perimeter treatment reduces the number of pests that find harborage on the structure or in the soil and lawn around your home. There will be fewer pests to enter your home, and these remaining pests will encounter an effective barrier, both inside and out.
Insects can also infiltrate your yard and home from neighboring areas. The treatment helps to keep out pests from neighboring yards as well. Perimeter treatments can also protect valuable landscape plantings from feeding insect pests.
A Thorough Inspection Leads to an Effective Treatment
Before treatment, a Delmar technician will perform a pest inspection of your property. This inspection locates areas where pests normally congregate – such as trash collection areas, mulch and gravel beds in the landscape and eaves that frequently harbor spiders and wasps. The inspection also locates common entry points, such as utilities, door and window frames, and cracks in the foundation wall and siding.
From the pest inspection, the technician determines the type and extent of insect infestations you may have, and how to treat it most effectively. Prior to performing the perimeter treatment, the technician will discuss the treatment strategy with you, pointing out any special areas of treatment. The technician will remove objects, such as children's toys and lawn furniture from treatment areas. He will also empty and remove pet bowls. As a precaution, we ask that you keep children and pets off areas to be treated until the application is complete and the solution has dried.
Beginning in the back yard, insecticide will be applied to areas requiring precise applications. The technician will also perform a general surface application along the foundation, in mulch and gravel beds and detailed areas (such as around tree trunks). To complete the treatment, the technician will apply solution to the soil and lawn adjacent to your home. The same process is followed for the front yard.
THE SERVICE CONTINUES AFTER THE TREATMENT
Following a treatment, the technician will discuss any other pest problems encountered during the treatment, such as rodents, and how they can be dealt with. The technician will point out any steps that can be taken to make the next treatment more effective, such as opening a locked gate or gaining access to a raised deck. You can also discuss ways to make treatments more effective, including repairing or replacing damaged screens or attic vents and sealing cracks in the foundation.
---
---
WHY IS THIS SO IMPORTANT?
At Delmar, our goal is to give you a pest-free home environment with limited pesticide usage. Our Shield One Perimeter Treatment allows us to prevent most insects from entering the structure, therefore limiting the amount of pesticide used inside the structure. It is our continuing effort to protect your home and our environment.
---
---
We are licensed, insured and long-standing members of the Better Business Bureau and Delaware Pest Control Association. When you need an exterminator you can count on, call Delmar, the pest and wildlife control experts who offer a complete money-back guarantee if you're not 100% satisfied with the results! Call (800) 200-5441 to schedule your free inspection today.

Schedule Your
Free Inspection
"*" indicates required fields