Are Mosquitoes Ruining Your Backyard? Get Professional Mosquito Exterminator Services from Delmar | Serving Delaware, Maryland & Pennsylvania
---
---
DO YOU EXPERIENCE AN ALL-OUT MOSQUITO ASSAULT AS SOON AS YOU STEP OUT OF YOUR BACK DOOR? ARE YOUR BACKYARD BARBECUES A BATTLEGROUND?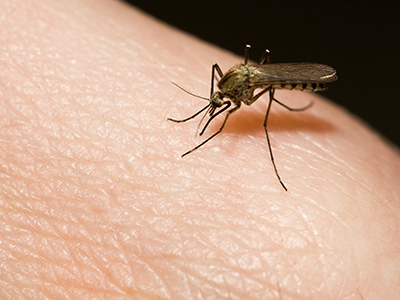 Mosquitoes can be extremely frustrating, but with help from the professional mosquito exterminators at Delmar, you can control their population and get your backyard back. Due to their ability to breed at a very high rate, laying up to 3,000 eggs every two weeks, and the fact that virtually any standing stagnant water acts as a mosquito breeding ground, they can be exceptionally hard to eliminate. Only with the most advanced tools and technology is our mosquito removal company able to contain the problem and offer effective solutions for mosquito control.
WE TARGET BREEDING GROUND AREAS TO STOP THE PROBLEM AT ITS SOURCE
At Delmar Pest Control, we do a thorough inspection of your property to determine the primary source of your mosquito problem. We then utilize a highly-effective, multi-step barrier spray. Our unique mosquito extermination treatments disrupt their life cycles, not only eliminating existing mosquitoes, but also destroying larvae and eggs, ensuring they never hatch.
While nothing can eliminate every last mosquito from your property, regular treatments from Delmar Pest Control can keep their numbers to a minimum and give make your property a place where you can spend time with the family, free from bites, stings and itchy welts.
BEWARE, MOSQUITOS CAN CARRY SERIOUS ILLNESSES!
The Zika virus is mainly spread through a bite from an infected Aedes species of mosquito. The World Health Organization states that during 2013-2015 there were large outbreaks that reported potential neurological and autoimmune complications of Zika virus infection. There has been an increase in babies born with microcephaly and an increase in Guillain-Barre syndrome, which are strongly suspected to be associated with the Zika virus. Experts estimate that there will be a strong return of the Zika virus in the 2018 summer season. Protect your family with preventative mosquito exterminator treatments that will reduce the risk of experiencing an infected mosquito bite on your property with help from Delmar Pest Control!
---
---
We are licensed, insured and long-standing members of the Better Business Bureau and Delaware Pest Control Association. When you need an exterminator you can count on, call Delmar, the pest and wildlife control experts who offer a complete money-back guarantee if you're not 100% satisfied with the results! Call (800) 200-5441 to schedule your free inspection today.

Schedule Your
Free Inspection
"*" indicates required fields