We Get Rid of Your Ants! Choose Delmar's Trusted Ant Exterminators | Serving Delaware, Maryland & Pennsylvania
---
---
ARE ANTS DRIVING YOU CRAZY? ALTHOUGH THEY ARE TINY USUALLY AND MOSTLY HARMLESS, NOBODY WANTS TO SEE INSECTS CRAWLING AROUND THEIR KITCHEN!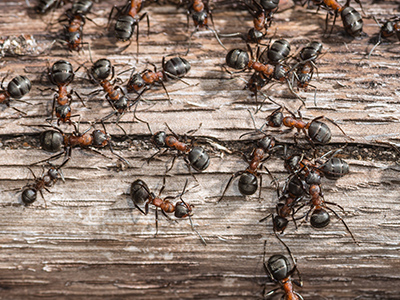 These little creepy, crawly pests rarely travel alone, so seeing one or two ants means there are probably dozens, even hundreds, more hidden just out of sight.
Ant problems are one of the most common insect infestations affecting homes on the East Coast, and they can be quite challenging to eradicate. Not only can they be quick and difficult to kill, nests are generally very well hidden. Our ant pest control technicians utilize their extensive knowledge of ants to determine the species at hand, allowing them to implement the proper pest control techniques needed to eliminate your ant problem for good.
AN EFFECTIVE PEST CONTROL TREATMENT STARTS WITH A THOROUGH INSPECTION
Delmar's ant exterminators develop customized treatment plans for each and every one of our customers. There's no "one-size-fits-all" approach, so we understand that a unique approach is often required to successfully handle your ant problem. Our process begins with a free inspection where we can determine the severity of your problem and get to work on deciding the best approach for eliminating ants.
WHY ARE ANTS INVADING YOUR HOME?
Just like any other creature, most of an ant's behavior is in search of food. Unfortunately, that's why ant infestations are most often discovered in the kitchen, where you least want them! It is very difficult to avoid ant infestations, but the first step is to avoid allowing ants easy access to your food. Keeping your floors clean and your food storage sealed tight may send the ants somewhere else in search of a snack.
It's very difficult to always keep your home spotless, and many people fall prey to ant infestations. Before a tiny little ant discovers how great your home is and tells the whole colony, schedule a free inspection with the ant exterminators at Delmar Pest Control.
---
---
We are licensed, insured and long-standing members of the Better Business Bureau and Delaware Pest Control Association. When you need an exterminator you can count on, call Delmar, the pest and wildlife control experts who offer a complete money-back guarantee if you're not 100% satisfied with the results! Call (800) 200-5441 to schedule your free inspection today.

Schedule Your
Free Inspection
"*" indicates required fields