Nobody Wants Raccoons for Roommates! Delmar Pest and Wildlife Control Offers Fast & Effective Raccoon Removal | Serving Delaware, Maryland & Pennsylvania
---
---
RACCOONS CAN CAUSE A HUGE NUISANCE TO HOME AND BUSINESS OWNERS. KNOCKING OVER GARBAGE CANS, STEALING FOOD AND DAMAGING PROPERTY IS JUST THE TIP OF THE ICEBERG!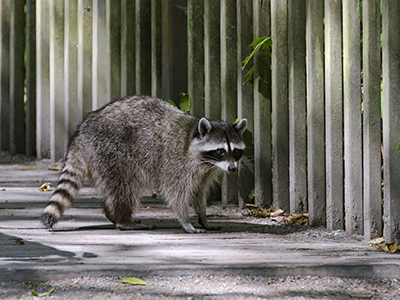 Raccoons can also carry diseases and are known to threaten pets and small children. If you're tired of raccoons terrorizing your property, call the experts at Delmar Pest Control for same-day raccoon removal services that are guaranteed or your money back!
BEWARE, RACCOONS CAN CARRY A VARIETY OF DANGEROUS DISEASES!
Raccoons are known to carry rabies, a potentially fatal disease that is generally transmitted through animal bites. In addition to rabies, raccoons also carry canine distemper, which is potentially fatal to man's best friend. Lastly, raccoon feces commonly contains roundworm, which releases infectious spores into the air. With the large number of potential health risks posed by raccoons, it's important to trap and remove and raccoons present on your property as quickly as possible. However, this doesn't mean that you should attempt to handle raccoons on your own! Call the raccoon removal experts at Delmar for a safe and effective approach to taking care of your raccoon problem.
CHOOSE AN EXPERIENCED WILDLIFE REMOVAL COMPANY THAT'S FULLY LICENSED & INSURED
Wildlife control is a serious business, with dangers being faced by wildlife control experts each and every day. That's why is especially important to choose a company that holds the proper licenses and certifications, and is fully insured in case there are any unforeseen incidents.
---
---
We are licensed, insured and long-standing members of the Better Business Bureau and Delaware Pest Control Association. When you need an exterminator you can count on, call Delmar, the pest and wildlife control experts who offer a complete money-back guarantee if you're not 100% satisfied with the results! Call (800) 200-5441 to schedule your free inspection today.

Schedule Your
Free Inspection
"*" indicates required fields