Get Rid of Cockroaches Today with Delmar, the Area's Most Effective Roach Exterminator | Serving Delaware, Maryland & Pennsylvania
---
---
COCKROACHES ARE A VERY COMMON PEST THAT INVADES HOMES AND BUSINESSES AROUND THE COUNTRY, AND THEY ARE ALSO ONE OF THE MOST DIFFICULT TO GET RID OF.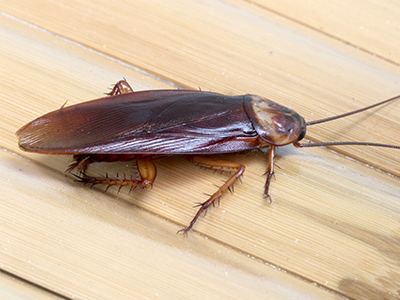 Due to their ability to hide in walls and cracks, evade capture with exceptional speed and breed at disturbing rates, a cockroach infestation can quickly get out of control. At the first sign of a cockroach extermination problem, call the professionals at Delmar Pest Control for effective, same-day service.
HOW DOES DELMAR PEST CONTROL GET RID OF COCKROACHES?
Each home is unique and requires a customized cockroach treatment plan, which is why we always start with a free inspection. After performing a thorough examination of your home or business, our roach exterminators propose a cockroach extermination plan that is guaranteed to get you results. Our service doesn't end after treatment! We continue to monitor your property to ensure that your pest problem is not at risk of returning, and we will perform any additional treatments as needed to keep your home or business cockroach-free.
Where Are These Cockroaches Coming from and Why Are They So Hard to Control?
We understand that dealing with cockroaches can be extremely frustrating. In order to successfully make progress in dealing with your cockroach problem, it's important to know some basic facts about these creepy pests:
Cockroaches love areas with lots of food, warmth and moisture. Keeping your home clean and dry is the best way to encourage them to move somewhere else.
Cockroaches are nocturnal, meaning they mostly come out at night. If you see cockroaches during the day, it is generally a sign that they were forced out due to overcrowding. Be careful, this is a sign of a serious infestation.
Many species of cockroach have evolved to be resistant to over-the-counter pesticides, making 'do-it-yourself' methods increasingly ineffective. Professional roach exterminators, like Delmar, are constantly improving their pest control methods and products to ensure success.
---
---
We are licensed, insured and long-standing members of the Better Business Bureau and Delaware Pest Control Association. When you need an exterminator you can count on, call Delmar, the pest and wildlife control experts who offer a complete money-back guarantee if you're not 100% satisfied with the results! Call (800) 200-5441 to schedule your free inspection today.

Schedule Your
Free Inspection
"*" indicates required fields